Previous:
Blog January 2005
Next: Blog March 2005
27th February 2005
Saw Stuart Estell (accordian) and Ian Nutt (guitar) perform at the
Old Mo'
. Very nice lyrical songs, with themes including canibalism a la Roysten Vasey, jealousy and murder. With a cheery soundtrack

There was also a follow up song to Silvia's Mother! You can hear some tracks (though none of the ones they played) at:
http://myweb.tiscali.co.uk/oceanrain/Anarchy/
The Concertina/Accordian/whatever version of Girlfriend in a Coma is one of my faves. Also playing were
Mike Bethel
, the Big Bren Combo and the So and So's. Mike played a very complex guitar style, all his own songs, with interesting lyrics. The Big Bren Combo did some fantastics beatnik jazz work, with poetry read, reminicent (to me) of Alan Ginsberg (but maybe that's my unfamiliarity with the genre). Great insightful lyrics - in "This is the sound of the City" (of Birmingham) and "Shopping". Also a very interesting 5 part piece on "A day in the life of Birmingham" - Dawn, Morning, Rushhour, Afternoon, Clubbing (or similar) complete with birdsong and about twenty changes of instrument. The So and So's played a mix of 60's/70's covers and some of their own compositions - one along the lines of "Come back to see us (when we're not in)" grabbed me.
26th February 2005
"About Space" at
the MAC
, a collaboration between MAC and
Vivid
, showing 15 short films and one feature on the theme of "Space". I was inspired to go by the chance to see "Powers of Ten", which starts with a view of a picnicer asleep in a park, filmed from a distance of one meter, with one meter of scene visible. In the next 10 seconds, the film zooms out to 10 meters, in the next to 100, until after 230 seconds (I looked it up -
http://powersof10.com/images/vce3.jpg
), our galaxy has disappeared into a speck. We then zoom back in, all the way to our friend on the picnic blanket, and then further in, to the skin, to a cell, to the chromosome, to the DNA, and finally to the centre of an atom. All this is accompanied by a fantastically deadpan narration of the sort made famous by school science films. You can see some of the images, and re-create the journey at
http://powersof10.com/powers/power_detail.php?id_power=0
There were a whole load of other great films, including John Smith's 1/2 hour piece "Lost Sound" which catalogues those scraps of discarded cassette tape you see waving from railings and sitting in gutters. His Gargantuan was also very nice - short and sweet. Akiko and Masaka Takado's Rainstorm presents a city drowning, and had me totally confused as to how it had been filmed and what I was seeing, even after seeing the revealing end, until light suddenly dawned half an hour later. Seeing "Fantastic Voyage" in this context was fun too - It's the kind of film that might surface at Cinetusi, and I did notice the occasional scientificly implausible event... but as a contributer in the discussion pointed out, many of the things which were science fiction in the film have come to pass.
23rd February 2005
Heard Pandit Shalil Shankar on Sitar with Mohinder Singh on tabla at the
Adrian Boult Hall
- fantastic playing. Each song (raga?) was quite long - the first one clocked in at about 30 minutes. At some points, there was a "dueling banjo's" situation, with the sitar and tabla following and trying to out do each other. I'm not sure I've seen live Sitar before, and was mesmerised by the way the fingers flew over the strings. The event was in celebration of the birthday of the late
George Harrison
, and Pandit recommended that we follow his mandate "Love One Another". Not a bad motto

Pindit Shalil Shankar (sitar) + Mohinder Singh (tabla):

21st February 2005
Ate at
Cafe Soya
- one of my favourite
places to eat
in
Birmingham
.
20th February 2005
Saw "A Very Long Engagement" at
the MAC
, staring Audrey Tautou, and directed by Jean-Pierre Jeunet all of
Amelie
fame. JPJ is also the director of the classic "The City of Lost Children" and "Delicatessen". Also featured is Dominique Pinon who appeared in all three films. It's a very long film (how many times have people said that? ...30 times
according to google
) at 2 hr 14 minutes, telling the story of a girl's search for her fiance, lost in the great war. Strangely, it also involves a key moment with a tin box full of secrets, and a retelling of childhood events with voiceover just as in
Amelie
. I seem to recall a lighthouse appearing in The City of Lost Children - but I could be wrong. Although in some ways similar to
Amelie
, it is harsher, with almost half the film taken up with scenes from the war - mud, trenches, death, cold, despair, death, death and death. Not that the film is negative or even horrific, somehow the switching of time between during and post war makes it seemingly realistic without the pain.
19th February 2005
Whilst looking for the website for Envy and Other Sins, I discovered this interesting site about the Evil Eye -
http://www.luckymojo.com/evileye.html
I'd hear the phrase but assumed that it was generally considered a curse, how ever apparently it's an involuntary curse caused by envy or excessive praise. You learn something every day!
18th February 2005
Misty's Big Adventure
played the
Bar Academy
, with
Envy & Other Sins
(
http://www.envyaos.co.uk/
) and [[The Ripps]. Entrance was only \xA33, which is a bit of a bargain for music and a late bar. The Ripps were on stage went I arrived, a lively 3 piece who reminded me of the Clash (but I'm not good at musical pigeon holeing). Envy and Other Sins are a
Moseley
based band, with a great look and some pretty tight playing. On guitars we have a kind of manic aviator, plus a very dapper lead singer. Drums by an escapee from Eton and keyboards by a figure slightly reminicent of the crowman from 80's TV series "Worzel Gummidge" - though obviously younger, less dirty, and without the bizare accent. In fact he's not that similar, apart from his hat:
Keyboard Player from
Envy and the other Sins
The Crowman From
Worzel Gummidge
Another thing -
Envy AOS
had their own light rig, a hat stand covered in bright blue lights. A fun band - at one point they brought in the riff from Hotel California into one of the songs. The lyrics could do with a bit less repetition though! Good band, see again.
Envy and the Other Sins:

Misty's came on after 11, starting with Confidence "with a C and an O and an F and an I and a D and an Ence". One of the great things about Misty's is that all the instruments count. Today the groovy keyboards struck me, as did an overall slightly noisier/punkier feel to the sound. Blinding gig (again, what can I say except that my friend who saw them for the 1st time wanted to buy a CD), with lots of dancing going on - in fact in addition to the bands, the flyer lists "The Gaiety Dancers, otherwise known as the 'Audience'".
Flyer for Misty's, Envy and Other Sins and The Ripps:

17th February 2005
Saw "An Inspector Calls" at
the rep
. Fantastic production, the set has a house/dining room raised above the stage where our almost Victorian mill-owning protagonists are safe, secure and happy, isolated from the dirt and pain of the wider world below. But, an inspector calls, and they are forced to engage, literally muddying themselves, and figuratively washing their dirty laundry in public. Very enjoyable performance, even though it has a bit of a heavy moral.
16th February 2005
Heard star French DJ Phillipe Bergeroo doing a UK gig at
the Bristol Pear
. Arrived a bit late so caught the last 20 mins of his set. Nice evening, nice crowd, groovy badges...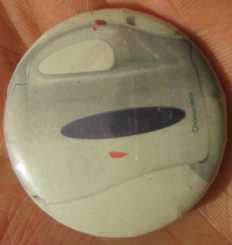 Next gig at "A Different Kettle of Fish" is Ruth Theodore on Wednesday 2 March. You can here some of here tracks at:
http://www.dangerhighpostage.co.uk/ruththeodore_threat.mp3
http://www.dangerhighpostage.co.uk/ruththeodore_behere.mp3
More details at:
http://louderthanwar.blogspot.com/2005/02/youre-stranger-to-me-now_14.html
15th February
Went to see Maximo Park at
the Jug
but sold out.
13th February
Chinese New Year was on the 9th, so
Birmingham
celebrated it at the nearest weekend, in the Arcadian Centre, heart of Birmingham's Chinese Quarter (it's more of a 1/16th really). Here's some pictures of dragons:
Chinese Dragon:

Chinese Lion Dragon:

11th February
Saw "Curry Tales" at
the Rep
. One actress plays 5 characters from around the world, each in their kitchen, cooking a curry. Our destinations include India (Mombai/Bombay?), Sri Lanka, Malaysia, and England, and the characters range from a woman facing possible death through race-riots to another cooking for her (white) inlaws. The curries cooked are real, and served for the audience to share (with the exception of one guy who refused to share his on the grounds that he was an "environmental health consultant"... more like he was greedy

Definitely different, the final scene seemed to make the whole thing just a bit too long, but something to see if you get the chance. Afterwards, I visited the
Boiler Room
at
The Square Peg
. Never been here before, but it seems like a nice (underground) venue. Two rooms, one a stylish lounge with soft seats, a raised bar and a stage. The other a gigging room, a bit like a overgrown garage, again with a stage. "Hey Pablo" (
http://www.heypablo.com/
)appeared in the lounge shortly after I arrived, with a lead singer reminicent of from Police Academy - you know, the one who does all the vocal gymnastics. "Lyrics" included voice scratching, monkey noises and sirens, plus a trade mark sound about "Omar" with a shout-along chorus of "He's mystic!". Good sound, fun and funny. The sound could have been a bit brighter (but I always winge about the sound mix!). One to see again for sure.
The Boiler Room
also had posters for an interesting sounding "Chilled Electronica, Abstract Hip Hop and laid back electronic sounds" DJ night on Thursdays. Searching for Hey Pablo, I found
http://www.birminghambands.com
(see also
their MySpace page
. Looks like a good source to workout if you'd like a band before seeing it. "Leg-End X" is one of their featured bands, their track "the pub song" is worth a listen (
http://www.myspace.com/legendx
).
9th February
Surfing the net.... Comprehensive article about the
Voynich manuscript
at
http://en.wikipedia.org/wiki/Voynich_manuscript
Funny how one thing
The Anchor
pub (
http://www.the-anchor-inn.fsnet.co.uk/
leads to another "The Anchor Exchange" (
http://www.seby.pwp.blueyonder.co.uk/anchor/
) - a secret underground nuclear age bunker in the centre of Brum!
8th February
Went to the "opening" of the latest exhibition at the
Ikon Gallery
- although it was half open on Sat. Saw a fantastic timelapse film - which shows the construction and de-construction of a "house" outside
The Rep
theatre in
Birmingham
. Over the course of 3(?) days, the camera slowly circles the building site, as blocks slowly rise and fall into walls and piles, rain darkens the brick pavement and colours ebb and flow with passing clouds. It's projection onto a circular wall only adds to the sense of movement. Also attended (briefly), the Birmingham Sustainability Forum. Checked out
The Wellington
, a new real ale pub right in the centre of Brum. On Bennetts Hill, near the cathedral, it will provide a nice pub for those who want a decent drink in a quiet city centre pub. It seemed quite busy for a Wednesday night, and will certainly provide some competition for the
Old Joint Stock
(just round the corner, and currently under refurbishment) and
The Anchor
(further away in Digbeth, but currently Birmingham's "Pub of the Year"). One interesting feature of
The Wellington
is it's food - they don't serve it, but you can bring your own and they will provide plates and cutlery... now if only there was a descent take-away nearby!
6th February
Ate at the
Ikon Gallery
cafe, which is a lovely place to hang out on a Sunday afternoon. The food wasn't as good as I remember it last time, but still good, maybe I was more hungry last time! Had a brief look at the current exhibition, only one is open at the moment. Lots of granite blocks (which a sign at the entrance points out you may stand on), and few other stone pieces - wasn't quite sure how to read it.
5th February
Visited the
Royal Opera House
to see the ballet Manon. I'm not generally a dance fan - I often describe it as "Overacting to music", but after the first 10 minutes in which I found the mechanism of dance slightly distracting, I settled in and really enjoyed it. The costumes and set were fantastic, and the acting at the sides of the main dance gave a lot of life to the scenes.
3rd February
Went to a talk on
Climate Change
at
Carrs Ln Church Centre
,
Clair Short
the labour MP spoke, as did representatives of
Friends Of The Earth
, Campaign Against Climate Change (
http://www.globefox.com/cacc/
), Islamic Foundation for Ecology and Environmental Sciences and the Green Party. Very good, some of these meetings can drag a bit, but each of the speakers kept it short and to the point, with no repeatition - a bit like an episode of "just a minute" but on an environmental theme. The IFEES (
http://www.ifees.org/
) guy made a strong link between climate and advertising, consumerism etc.
2nd February
Saw Aaltra, a Belgian wheelchair road movie with Finish influences. It tracks the progress of two rowing neighbours, who, injuring each other in a tractor accident, treck across Europe towards Finland, taking in a lot of moto-cross on the way. The film is shot in a rather stark black and white, which actually makes the subtitles disappear at some points. One thing it really reminded me of was the films by
Aki Kaurism
\xE4ki (
http://www.imdb.com/name/nm0442454/
), and I found out later that he actually makes a cameo appearance (as the owner of the Aaltra factory).
Previous:
Blog January 2005
Next: Blog March 2005
---
See Also:
Web Changes
for other recent updates,
All Blog Pages
for previous blogs. You might also want to read other
Birmingham Bloggers
This is my blogchalk: United Kingdom, West Midlands, Birmingham, Moseley