Prev:
Blog April 2006
1 Year Ago:
Blog May 2005
Next:
Blog June 2006
Wed 31 May 2006
Fierce: Live Results of Fist
Here's the live results from the Fierce arm wrestling contest. The winner was Simon from Shard End, silver medal went to Irena Barker of Edgbaston. The prize was a bottle of chateau mouton 1974 and a table dance from the whore of babylon (pictured).
Posted on the move at 22:18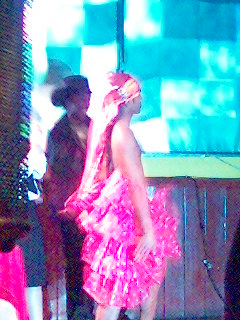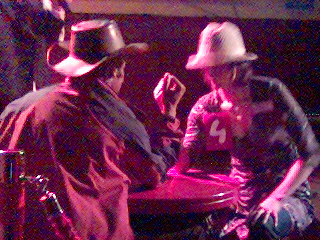 Wed 31st May 2006
Fierce: Upcoming Events...
The Fierce Festival finishes this Saturday (3rd June). Here's a few things to look out for in the Fierce Program:
Sun 27th May 2006
Birmingham Bloggers
Added
Fictions
, Richard Bruton's blog
%EXT%
to my list of
Birmingham Bloggers
. If you've asked me to add you and I haven't, it's not that I hate you or anything, it's that I forgot! So please let me know again

Sat 26th May 2006
A day of out of town Fierce-ing...
Fierce: Line Dancing Cowboys!
The line dancing cowboys hit wolves. You can see them in the square next to the civic centre till 12 midnight.
Linedancing Cowboys:


As you can see from the photos, the local grebos / emo kids came down and joined in with the dancing, and skateboarded round them etc. I also got interviewed for Fierce TV, so that should appear on the website sometime soon. I'm pretty sure they have no footage of me dancing....
Add comments or write about your own Fierce experience
Fierce: Darling, this is how...
After a couple of wrong turns, and a trip on Wolverhampton's free city centre bus, we found The Wheatsheaf pub and asked at the bar to see "Giovanna Maria Casetta". Here's a glimpse "through the keyhole..."
Wheat Sheaf Pub:

Through the keyhole...:

Through the keyhole...:

Of course, taking pictures through a peephole is no simple matter, so you should get a better view of this short film than this!
Add comments or write about your own Fierce experience
Visited
Warwick Arts Centre
to see the Red Ladies. Arriving early and sitting downstairs in the bar, we saw the occasional Red Lady wandering past. We then moved upstairs to as that's where the action seemed to be, and received secret instructions from one of the Red Ladies. Then off one of the ladies went and we followed her outside. Warwick Arts Centre is part of a complex of white buildings, with broken up levels, passageways and tiered roofs. As we walked through, there seemed to be Red Ladies everywhere. On the rooftops, inside offices, sitting in secret gardens, surveying us with binoculars, sending secret signals with their sunglasses etc. Our walk led us to the back entrace to the theatre and we rushed down a series of passageways eventually collecting in a space behind the stage. The doors opened and we were told to seat ourselves. Often I just describe the performances I see, and don't spend so much time on the message behind them. With the Red Ladies, what really came across to me were the concepts. If I had to sum it up in one sentence, I'd say "People are all the same, and people are all individuals", and in two sentences, I'd add "We are very small and the world is very big". Other themes were those of interuption, social isolation, war and of the roles of women. On stage, some of the things one could see were the Ladies acting in concert, all together, identically dressed; at one stage, changing into different dresses, reading different books; being interupted by disjoint voices from a loudspeaker, sometimes fragments of news reports, sometimes numbers or random words. Ah! it's hard to describe, but well worth seeing!
Fierce TV
were there again, interviewing people so you can
hear more about it on the Fierce website
.
Red Lady (Stairs):

Red Lady (Secret Briefing):

Red Lady (Roof):

Red Lady (Secret Garden):

Red Lady (Warwick Arts Centre Clocks):

Add comments or write about your own Fierce experience
Fri 26th May 2006
First... The last night of 25/7 is this Sat 27th May, 4pm and 7.30pm in central Coventry. If you want to catch it you'd better hurry! You can book on 024 7652 4524 or
Read more on the Fierce website
. 25/7 is the funniest, warmest, in the round, start of war drama I've seen for a long while. Seated in a revolving restaurant, with a view of approaching tanks, we watch the countdown to an olymic launch and the start of war. Our characters include: an "over enthusiastic" journalist,
slightly
prone to exageration; a
fiesty
waitress; a sniper with a grudge; and a restaurant owner desperate to make a successful impression. I must admit to having a big grin on my face for about half of the time - mainly due to the excellent dialogue. Oh! and there's a band too...
Add comments or write about your own Fierce experience
Thurs 25th May 2006
Fierce TV is back - video footage of some of this years events, including the
Puppini Sisters
,
Vegetable Orchestra
and
Evidence for the Existance of Borrowers
can now be seen at:
http://www.fiercetv.co.uk/
The first piece at the Patrick Centre, started with a seemingly random set of movements, with the performer (Frederico Paredes) standing at one point, waving his arms, and moving on to another place. I must admit, I wasn't sure quite what was going on! Then music was added, including the sounds of birds, and commentary from a guided tour and some of the bird like moves began to make more sense. Next, we were told a tale of the major of a Brazilian city who, wishing to make it more like Paris, imported and released crates of sparrows, who then chased away the brightly coloured and diverse native birds. Later in the piece, he invited 6 members of the audience on stage, and after briefing them, the action resumed. They each took a place on the stage and performed a repetitive action. Frederico moved across the stage, arms out, forcing the other "players" into a smaller and smaller space, where their movements clashed and were restricted. As a piece, it worked very well - a clear metaphor for colonialism, well presented, enjoyable. Frederico himself came across as warm, friendly and intelligent.
Add comments or write about your own Fierce experience
Fierce: O Samba do Crioulo Doid
The second performance was O Samba do Crioulo Doid (The Samba Of The Crazy Nigger). Here, Luiz de Abreu explores a wide range of stereotypes, through dance. We begin with a very dark stage, a backdrop of Brazilian flags gently lit from behind, an a single figure, silhouetted, in the back corner. The figure starts to move, swaying slowly as soft music plays. Gradually, the lights brighten, the music speeds up, the dance becomes more lively, and the figure moves closer and closer. It becomes clear that our dancer is naked. Very naked. If you can be very naked. The calf length silver boots only serve to set off the nakedness. Our dancer begins to sway his hips, slowly, with predictable results (which, like some of the other actions, I won't describe for modesty's sake

) One person in the audience leaves. As the moves continue, the lighting clear now, Luiz begins a show of muscle control, shaping and re-shaping his body. A couple of times, he does a wonderful transformation back and forth from a smiling, waving happy figure (perhaps on a carnival float or TV) to his normal "plain face". A Brazilian flag, with holes to make it wearable as a cloak appears. Luiz wears it as a catwalk model, strutting up and down on his silver heels, as a sheet through which he shows various parts of his body, and in a myriad different ways. A wonderfully multi-layered piece, so many references to stereotypes and popular cultural images, and something you could discuss and dissect for a very long time.
Add comments or write about your own Fierce experience
Wed 24th May 2006
Fierce: Here While We Walk
About a dozen of us gathered outside the Ikon where we were enclosed in a large white band. Told we would walk for an hour in silence, and off we went. Initially it was hard, and a little frustrating, trying to walk in this enclosed space without stepping on other people. We quickly learnt to walk well as a group, as we went through a series of turns, narrowings to single file and other manoeuvres. The first public reaction i saw was that of a security guard directing traffic, who just stared at us in wonder, totally distracted from his task. Next, a Brindley place security camera followed up with its little glass eye (see
Peteo's great photo on the Fierce website
). As we waited at a pedestrian crossing, a group of lads on the other side shouted "is it a protest?". I also overheard someone explaining: "it's a tour for foreigners" and met a guy who was going "is it a flashmob? It's a flashmob isn't it." but of course, our vow of silence prevented up replying. We also stopped in various places, in Chamberlain Square where one of our guides followed the outline of our band with bread crumbs, and slowly, pigeons joined us within our space. Later we had a game of cats cradle, tying ourselves up in knots with elastic until "ping, ping, ping..." it was released. I actually saw lots of bits of Brum I hadn't visited before, and it was fun watching the reactions of passers-by - those who didn't see us, those who stopped and stared and those who tried to rationalise us away. Once we were released from our band, and our silence, our kind artist guides gave us kites to fly with the words "Here","While", "We" "Walk" on them

Add comments or write about your own Fierce experience
Fierce: Imagem - Marcela Levi
Fierce wouldn't be Fierce without the occasional nude performance, and this was the first one this year. The venue was the
Ikon Gallery
, and we arranged ourselves in rows on the floor of the 2nd floor gallery. Marcela Levi walked out in slightly loose blue shorts and top, and proceeded to act out a number of scenes in which she moved and removed her clothes, re-modelling the clothing - shorts becoming a top, top becoming shorts.
Add comments or write about your own Fierce experience
Fierce: PORTA DAS MAOS Porta Das Maos - Michel Groisman
Michel Groisman's smooth, hypnotic hand movements, always joined, ever changing were projected live in a darkened room. The writing forms looking like a ballet for octupi. Sometimes shapes like faces appeared, sometime it seemed abstract, sometimes reminiscent of shadow play. Michel even tried to teach the audience how to reproduce some of his moves - I think I got them....
Add comments or write about your own Fierce experience
Tue 23rd May 2006
Fierce: Upcoming: Red Ladies
Tomorrow is the first day of the Red Ladies take over of Coventry city centre. Previously spotted in Tragalgar Square, these mysterious red head-scarfed women are on a mission... but no one knows quite what that mission is. They'll be out and about on Weds to Sat early afternoons this week, and you can visit their headquarters at Warwick Arts Centre each of those nights at 7.45 (*)
More details on the Fierce Website
, or ring Warwick Arts Centre on 024 7652 4524 to book. If you manage to spot them, you can
report sightings here!
(*) A misprint in the Fierce brochure says the performances are only Weds and Sat, but I've checked and they're doing Thurs and Fri too.
Mon 22nd May 2006
Fierce: Evidence for the Existance of Borrowers
I didn't know what to expect from this performance at The Hippodrome, a couple of friends had been on Sat and Sun and told me it was very good - but not given anything much away about what happened. As it's finished it's run in Brum, I'll spill (some) of the beans, so beware: there are "spoilers" below. On the top floor of the Hippodrome, we were met by a lab-coated assistants who led the audience (limited to about 15) through to a luxurious theatre sponsors room where the founder of the Borrowers International Network (BIN) explained to us the purpose of the organisation and a little about the history of Borrowers. We then set off on a tour through the complex and winding corridors and stairs of the theatre back stage, looking for evidence of Borrower activity. As Borrowers are very small, about 1/10th the size of a "Human Bean", there were small arrows at ankle height to guide us, or visiting Borrowers, on our way. We found various Borrower items, all lovingly reconstructed by BIN. These included tiny ladders to allow them to climb around the human world, a "artists box" of "Bobjects" each of which triggered the telling of Borrower Legends and a collection of borrower sports and games. The finale was a musical performance on Borrower instruments, by BIN members! The objects were quirky and cute, and the whole feeling was very nice. Judging from the laughter and smiles, the other audience members really enjoyed it too. "Evidence for the Existence of Borrowers" has finished it's run now, but you can find out more about the next
Fierce
events at their website -
http://www.fiercetv.co.uk/
Add comments or write about your own Fierce experience
Borrower Carnival Costume:

Fri 19th May 2006
Fierce: Launch Party
The Fierce Festival got off to a flying start with its spectacular launch party. All the traditional "free loading arts folks" seemed to find their way to the new location OK - funny how word gets around when there's free booze! Entertainment wise, we had the
Puppini Sisters
%EXT%
doing great 40's style versions of songs by artists like
The Smiths
and
Kate Bush
. Their dress sense reminded me of great Sugarfoot Stomp DJs. What about a Stomp / Puppini crossover?
Puppini Sisters:

Puppini Sisters:

We also had speeches from the Fierce organisers and from Lynne Jones M.P., patron of the arts, who, as
Barbara Nice
said, looked lovely in pistachio.
Lynne Jones M.P., Patron of the arts :-):

Barbara Nice
, King Heath housewife superstar compared, having travelled down to the venue on Europe's most frequent bus service - the classic number 50 ! She finished her set with a wonderful stage dive with the audience passing her over their heads to the bar.
Barbara Nice goes to the bar!:

Find out more about the next
Fierce
events at their website -
http://www.fiercetv.co.uk/
Add comments or write about your own Fierce experience
Thu 18th May 2006
Fierce: Launch Party Moved!
Due to overwhelming demand, the Fierce Festival launch party has been moved to Chic Bar, 28 Horsefair Birmingham B1 1DD. It's on the corner of Bristol Street & Essex Street, just out of town from the pagoda in the middle of the Bristol St roundabout. It's free, but you should probably ring 0121 244 8084 to be put on the entry list. The Fierce Festival Website lets you
comment on the Fierce Festival
- check it out.
Went to the opening of
The Waiting Room
at
Walsall New Art Gallery
, a series of videos made with members of the public and set in a waiting room. I went along
back in February
, and took part. Nice to see all the films, with various people I recognise or who were present in the room appearing on screen. There was also some great painting by Kerry James Marshall, paintings featuring black people, often in scenes where most people would "expect" to see a white face. His "Love" series in black, white and shades of grey (plus the odd pink heart) is fantastic. Unfortunately, I missed Richard Billingham's long exposure photos of Cradley Heath at night. Must go back...
Sun 14th May 2006
Sideshow / British Art Show in Nottingham
Bad things: The sideshow infomation place was closed, and so was the building where they were selling small "multiple" pieces of art. Which was a bit disappointing, as the program clearly says they're open on a Sunday. Also, 3 of the 5 BAT venues were also closed, though I did know this in advance. Good things: Great giant faces of Queen Victoria in the Castle Museum/Art Gallery. From a distance you just see the face, closer, you see it is made of flowers and brightly coloured objects. Closer still and you see the "dark side" of empire - one of the day glow lizards carries a skulls in its mouth, the black background consists of guns. Very nice metaphor. Another fantastic piece was a cut-up film of news broadcasts on the theme of terrorism, iraq etc. Consisting of juxtapositions of so many people saying "terrorism", "terrorist", "weapons of mass destruction", "nuclear, chemical and biological weapons", and "dirty bomb" etc. it forms a history of how we are terrorised into supporting the attacks on both Afghanistan and Iraq, and those on freedom and democracy. It reminded me a lot of the alphabetical cut up film
Qaeda Quality Question Quickly Quickly Quiet
which I saw
back in 2004
. You can hear a
sound clip of QQQQQQ from this page %EXT%
- but the pictures actually make it much better. Nottingham has lots of different buildings - different styles, different ages. Unlike Birmingham which generally seeks to destroy any building which might be different or interesting (or at least facade it and build naff 1990's style appartments sticking out the top). Quite a lot of nice arts and crafts building too. There's also independent shops, in addition to every chain under the sun. Well worth a visit for this alone. Will add more later, including some photos.
Sat 13th May 2006
Chikinki
Saw
Chikinki %EXT%
, and some of
All Gods Fail %EXT%
(and missed
Man Over Board %EXT%
) at the
Jug of Ale
. Chikinki were a great 5(?) piece, with a bass keyboardist who danced/writhed to the music and had a wonderful "look". The lead singer too, had a very particular style - somewhere between Mick Jagger and Jim Morrison - and I think he knew it. They mixed electronica with more rocky/guitar stuff and came accompanied by a small but loyal group of fans. No idea where they're from, but I'd see them again.
Spamdoku and Spam Filter Overdrive
My GMail spam filter has gone into overdrive, classifying quite a few of my real emails as spam. I get around 3500 spam emails a month, so I'm working through them, trying to sort out what's real from what's not. To this end, I've invented a new game, soon set to rival Sudoku in popularity. It's called
Spamdoku
. How it works is this. First, gather around 3000 spam emails, sprinkle in a few real emails from friends, collegues, bands, arts events etc. Your task is to identify keywords which are only found in the spam. You get one point for every spam email identified. Here's some examples from a corpus of around 3000 emails. The number of spam emails identified is shown after the keyword (or
Spamdokey
as they are properly called). Numbers in brackets indicate real
ham
emails identified as
spam

desk - 58
lottery - 121
caps - 2
account - 150+ (3)
commercial material - 103 
? (russian character like a B) - 92 
sexy - 11
explicit - 34
drugs - 34
corporate - 80
? (russian character like a backwards N) - 48
pill - 30

Think of trawling through your spam in this way and it's a fun game for all the family (well, given the contents of some of the spam, perhaps not
all
the family).
Ana Milgram, an arts scene blog after my own heart - lots of pictures and descriptions of exciting arty things at the British Art Show - Ana Milgram's Blog %EXT%
If you're a
BirminghamBlogger
, email me (website (at) andypryke.com)) and I'll add you to the list. If I forget to add you, or the email has ended up in my spam box, please do send me a reminder!
Fri 12th May 2006
Cinemaphonic
Another great Cinemaphonic event at
the MAC
. Wonderfully crisp silent film of islanders on St Kilda and in Brittany, accompanied by celtic influenced music. St Kilda is now uninhabited, the residents having requested evacuation in around 1930. The film shows these islanders in their remote habitat, but the interactions with the visiting "swells" in their fur coats and suits are just as interesting. Finis Terrae (1929) was shot in Britany and is a more narative work, telling the story of 4 islanders (2 men and 2 teenage boys) who are working on a (basically) uninhabited islandgathering seaweed to produce soda ash. The shots of the waves crashing against the cliffs are amazing!
Thu 11th May 2006
Missing Sideshow!
Doh! I knew that Sideshow was happening alongside the British Art Show in Nottingham, but somehow I thought it ran from the 21st May. It doesn't, it started on the 21st April! Doh! Again. Still, it does go on until the 4th June. Check out the
Sideshow Website %EXTERNAL%
to work out what's going on.
British Art Show - Appalling Website
Why. Why. Why don't these people learn. Yes, it looks flashy - it's in flash. But is it
fit for purpose
? What are the key things wrong with the
British Art Show website %EXTERNAL%
?
I can't bookmark events so I can return to them again, send the link to friends or link from a blog
If I want to view details again I have to navigate through time consuming animations
I can't even copy the text so that I can send that to other people!
I can't view it from a system which doesn't support flash - for example my mobile phone.
It's lack of accessibility means it is breaking the Disability Discrimination Act.
That's enough for the moment. Why can't they just tell me: What's on, where and when. Bonus marks for how to get there, and a nice simple graphical design. The intention of this website is to be an
information artifact
, not a piece of art in itself. Very poor design.
Weds 10th May 2006
Mobile Phone Applications
I'm already a fan of Opera Mini
%EXTERNAL%
which allows you to browse the web very effectively from a mobile phone, and I was casting around for other Java (
J 2 ME
) applications which would run on my phone. Here's a couple I found:
Fri 5th May 2006
Persil and Zea at the Electric
This low key gig at
the Electric
only attracted around 30 people, including the bands and staff. And that's a pity, as both two-piece bands were excellent! I felt a bit sorry for them, driving across from Amsterdam, for such a small audience, but they seemed to have a wonderful time never-the-less. In brief, Zea
%EXTERNAL%
consisted of one guy with a (wired up, accoustic?) guitar and another with two "ironing boards" full of electronic boxes, sliders, knobs to twiddly and of course, lots and lots of wires! Just seeing the set up made me thing we could be in for something good. If you've seen Zea, you'll remember one thing about their stage presence - the incredible dancing from the electro-whizz - it's like he's got rubber bones, and he just doesn't stop. At one point, a guitar string needed replacing, and we were treated to a remix of someone saying "push the button". Overall, fun, funny and nice music. Persil
%EXTERNAL%
brought their own visuals, purpose made films which made sense of the cinema venue! Again, 2 pieces, with a set up and lead singer who reminded me of Barbara Morgenstern and Robert Lippok (who I saw
back in July
. She did quite a lot of live sampling and remixing of her own voice, and got people up and dancing. Great gig. Deserved a bigger audience. I hope the organisers put on more, and get some wider publicity.
Weds 3rd May 2006
Upcoming... gigs
Kate Goes...
(to the farm) play at the
Jug of Ale
this Friday,
Dufus
play the
Actress and Bishop
,
Zea
and
Persil
play the Electric - busy night! Checking out Dufus' schedule, I found this website:
http://www.antifolk.co.uk/
I don't know how to define
antifolk
apart from I know that people like
Dufus
,
Jeff Lewis
and
Herman Dune
are on the
NY Antifolk scene
so would be interesting to see more of what the UK people are like. I noticed that local boy
Ben Calvert
is listed on the front (due to his name begining with "B"), so I should check him out again when he's gigging in Brum.
The start of the
Fierce Festival 2006
is fast approaching. Fierce is a great
Birmingham
institution and well worth checking out. It consists of the kind of arts events which, even if you don't like them, give you a fantastic tale to tell your friends
"You'll never guess what I saw last night..."
I tend to like them all, and you can see some photos and comments from last year's Fierce in my blogs from
May 2005
and
early June 2005
. Check out the programme at
http://www.fiercetv.co.uk
Tue 2nd May 2006
What Do People Do All Day?
An exhibition / competition of 20 artists at
The Mailbox
. Organised by
Birmingham Artists
, and very well attended, this competition drew way more than 20 entries and even some of those which didn't make the 20 exhibited were of high standard (I'm not clear what the exact selection criteria were). The two winners, splitting the \xA31000 prize, were a video work by Angie Stride (see
http://www.artscentral.co.uk/openevent.asp?eventid=19168
)for a good description) and paintings Carrie (whose surname I don't know). Another piece which really stood out to me was the Tramps Monopoly, executed in torn corrugated cardboard with stuck on fag ends etc. and beer cans for counters, it was funny and poignent at the same time. I'd like to go back and play it for real. Stu's photographs (previously seen at
The MAC
) remain ghostly but somehow calm, showing spaces empty of people, with the nighttime long exposure giving an almost supernatural quality of light. Another canvas which grabbed my eye was a simple red on green text affair, reminding me of the "paint / int / pink"
stickers you see around Brum
- though (i) obviously not the same artist and (ii) I didn't get a close enough look at it.
Prev:
Blog April 2006
1 Year Ago:
Blog May 2005
Next:
Blog June 2006
---
Contact me: Website (at)
Andy Pryke
.com, try use a subject which will get through my Spam Filter! I've been having spam filter problems, so if you haven't had a response, I'm really sorry, please try again! See Also:
Web Changes
for other recent updates,
All Blog Pages
for previous blogs. You might also want to read other
Birmingham Bloggers
This is my blogchalk: United Kingdom, West Midlands, Birmingham, Moseley