Previous:
Blog July 2003
Next: Blog September 2003
31st August 2003
Arrive in Rome.
30th August 2003
Visited Porto Santo Stefano, on Argentario. By change it was the saints day which mean (1) it was very hard to get a table in any of the restaurants and (2) there was an amazing firework display!
29th August 2003
Visited the (originally) Etruscan hill town of Volterra. Aside from a roman amphitheatre and impressive city walls, I also came across this wall painting of the annunciation, which has rather a strange carpet.
Wall painting of the Annunciation:

Close up of the rug in the annunciation, Volterra:

Visited the fantastic archeological museum in Piombino.
28th August 2003
Visited
Etruscan Tombs
near San Vincenzo. Some of which featured "beds" for the dead.
Outside view of Etruscan Tomb:

Etruscan tomb with "bed" posts:

27th August 2003
Visited Elba, where I learnt not to pick Prickley Pears.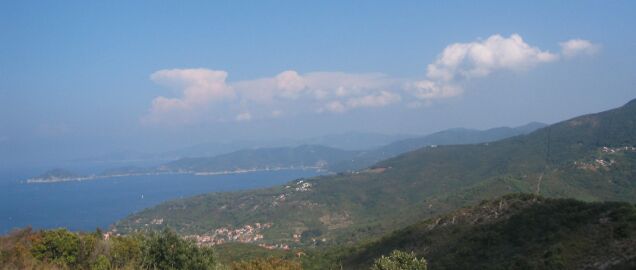 24th August 2003
Visited Populonia which has a great rocky beach nearby,

22nd August 2003
Saw Carmen performed at the fantastically preserved
Verona Roman Arena
, sat about 6 meters from Chancellor Schr\xF6der of Germany and Romano Prodi, President of the European Commission.
20th August 2003
Arrived in Monza, Italy
17th August 2003
At Edinburgh Festival - see:
John Hegley
- Doing poetry, songs and even ventriloquism! Charlie2nd (
http://www.charlie2nd.com
) - a fantastic street performer who got audience members to perform all sorts of physical stunts. Waterfall - A dance piece performed in a Waterfall! Sherlock Holmes walking theatre, performed alongside a river
Previous:
Blog July 2003
Next: Blog September 2003
---
See Also:
Web Changes
for other recent updates,
All Blog Pages
for previous blogs This is my blogchalk: United Kingdom, West Midlands, Birmingham