Prev:
Blog November 2005
1 Year Ago:
Blog December 2004
Next:
Blog January 2006
 <!-- one day young men were fishing by the river. A canoe came and took one of them. He fought in a war. A war of the ghosts. they brought him back --->
Sat 31st Dec 2005
Finished my
Best Of Blog 2005
, summarising what I liked most in 2005, the best photos, the most interesting events, the most fun!

Fri 23rd Dec 2005
The
Jug of Ale
was packed for this gig on
Misty's
home turf, and they were turning people away before the 1st support had finished. That's one reason to turn up early. The other was the quality of this first gig performance from "Kate's as-yet-un-named-band", I'm afraid I don't know the names of the rest of the band! The lyrics were good, a nice bright sound, wonderful vocal harmonies and topics ranged from waking up on Christmas morning to not losing your friends. Once they get a name, they'll be one to watch out for, for now, you'll just have to hope you see them...

You could be helped along by the fact that although they are un-named, they do have a brand: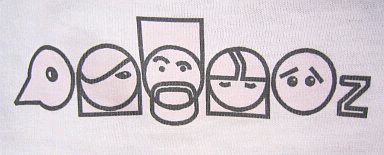 It's a long time since I saw
Dogfood
, it always seems to be that I've something else arranged for the same night as they're playing. Tonight they were on top form, with Mr Simon wearing a bright yellow safety helmet and one guitarist sporting a very fetching mop-top-like wig. The sound quality was good, and they played a lot of happy, bouncy, dancey songs. Having secured a place fairly near the front (and under the watchful eye of
Pete Ashton
who was perched on a table snapping away) I got down to dance to Misty's. The problem with Misty's is, to be honest, that their hard work is paying off, and they're becoming far too popular, attracting bigger crowds, making dance space severely limited! Gone are the days when you could sit down at the front of the gig, and then conga through the crowd. Even Erotic Volvo had to be "stretchered off" to recover from the heat... well, not exactly "stretchered" but you get my drift. As it's Christmas time, Misty's played their two new Christmas songs, which I haven't heard live before (though I had
downloaded them from TuneTribe
). Lets hope they become big Christmas hits next year! Afterwards I managed to secure a t-shirt from the as-yet-un-named band, and a couple of copies of the Christmas single.
Sat 17th Dec 2005
Bank
Ate lunch at Bank in Brindley Place. The mozzarella and tomato salad came with a tasty though not overpowering pesto dressing, followed by penne pasta with porcini mushrooms. I can't say I thought much of the house red, though once it had breathed a little it improved. Finally an orange panacotta with mango and pink pepper, which worked very well, the flavours of the mango and peppercorns having a certain synergy.
Sweet Briar
Later on in the day I saw the Nottingham band Sweet Briar play at a private function. They've got a warm and friendly sound with a cute korg synth. I guess because it was a party, they played quite a few covers, and very well, ranging from Woody Guthrie to a Beastie Boys track! Hope to catch them again if they play locally.
Wed 14th Dec 2005
Locanta Piccalilli
A bit of a hidden gem this, the Locanta is located on Ludgate Hill in the
Jewelry Quarter
, the road that runs up to St Paul's Church. There's a large and varied menu, with a good vegetarian selection, covering turkish food, pizza and pasta. We ordered some mezze to share a starter, and got quite reasonable portions and an interesting variety. The service was very good, without being fussy, with appropriate cutlery, glasses etc appearing as required without any interuption to our dining or talking. Worth visiting again - I'd like to try more of the unusual dishes.
Thu 8th Dec 2005
Sainsburys and Woolworths censorship
The Jerry Springer the Opera DVD has been taken off the shelves following complaints by 10 (yes ten!) people. I'm planning to go see the show in Feb, and I'm looking forward to seeing the protesters there... You can email them here:
customerservice@sainsburys.co.uk
and
customer.relations@woolworths.co.uk
Sign the pledges to stop this censorship:
http://www.pledgebank.com/dvd-boycott
,
http://www.pledgebank.com/JerrySpringer
More details here:
http://www.mediawatchwatch.org.uk/?p=300
Tue 6th Dec 2005
Simpsons
Ate at Simpsons, one of only 2 michelin starred restaurants in
Birmingham
. Seated in a private dining room, with a crowd of 20 people, it was hard to feel the atmosphere of the restaurant, though the other patrons I spotted were mainly middle aged men in dark suits (occasionally with younger and short skirted companions), plus a few couples and a hen party. For me, the food is the key criteria for evaluating a restaurant, and it was good. My mushroom risotto with porcini and truffled mascapone was flavoursome and well cooked, with very tasty mushrooms. Second course was a rather small (6 piece) portion of goats cheese ravioli with little pieces of baby leek and other veg. Our 3rd course consisted of a nice nutty icecream with a chocolate based tart - nothing special but decent and well presented. Finally, coffee, chocolates and wonderful fruit jellies.
Sat 3 Dec 2005
Green Room
Ate at the
Green Room
in Birmingham city centre, they were quite busy but our food didn't take too long, and they did warn us about the wait. My feta salad was nice, as were the olives and humous we had as a starter, but some of the other dishes looked a bit sparse.
Fri 2 Dec 2005
Sudoku
My collegue Colin Frayne has written a
Free Sudoku Solver
which is quite cool and takes you through it's "thinking" when solving the puzzle.
Thu 1 Dec 2005
Finland Calling
Helsinki has great clothes -
http://www.hel-looks.com/
- It's also got a good university... Maybe I should move... if only it was warmer in the winter!
---
Contact me: Website (at)
Andy Pryke
.com, try use a subject which will get through my Spam Filter! See Also:
Web Changes
for other recent updates,
All Blog Pages
for previous blogs. You might also want to read other
Birmingham Bloggers
This is my blogchalk: United Kingdom, West Midlands, Birmingham, Moseley