Prev:
Blog February 2008
1 Year Ago:
Blog March 2007
Next:
Blog April 2008
Sunday 23rd March 2008
Seven Inch Cinema
American film collector Jack Stevenson was back in town with an eclectic mix of shorts including some great adverts The cinema one explaing what a tv is was priceless: "Mr and Mrs Smith can see events which are happening at the same time which they occur, but in a different place". We ended on a psychedelic stag movie which Jack had rescued from the flooded basement of a junk shop. There was some very groovy dancing!
Thursday 20th March 2008
Nosferatu
One of the final Cinemaphonic performances at
the MAC
before the place closes for refurbishment. This time, our silent film was Nosferatu and the music was provided by Micronormous and (parts of)
Misty's Big Adventure
. It's a great film, a little longer than I expected, but very evocative. The music was well done, with themes running through for the characters, but never intrusive. I wish that the MAC recorded the music from the Cinemaphonic performances, then you could listen again whilst watching the film on DVD.
Saturday 15th March 2008
Miyama
One of the
Sushi places on my list to try
, Miyama is just round the corner from Green Park tube. It's a relatively posh establishment, certainly not a cafe or snack-bar. The staff were smartly dressed, with the women sporting Kimonos with quite pronounced Obis. They reminded me of the clothes in the film Spirited Away. I went for the 5-course set meal, choosing a nice Tofu/Wakame soup, nigiri sushi and sashimi. The quality of the fish was very good - melt in the mouth. We had a mix-up with an order of Tempura which came with prawns rather than vegetables, and it took a long time for a replacement dish to arrive - we were told that the kitchen was very busy. We also ended up getting Sake rather than Asahi beer! Overall, a good place to eat if you like Japanese food - just make sure you order clearly!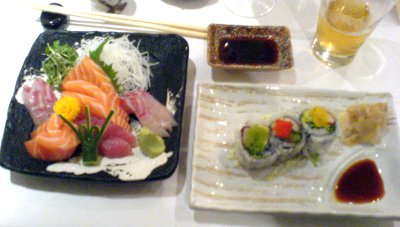 Sashimi at Miyama
Terracotta Warriors
Good fortune led me to acquire a free ticket to go see the Terracotta Warrior exhibition at the British Museum, at about 10pm! The audio guide was excellent, and gave a lot of context to what could have just been "some old statues". We were taught about the origins of China, the first emperor and his conquests, and a little about what life would have like in the time of his reign. I think my favourite exhibit was the emperor's travelling chariot, which had wall-paper-like decorations inside and out, and a door catch only openable from the outside. I guess he always had servants to open it for him?
Friday 14th March 2008
Glacier Dance
To my surprise, this dance performance was very well attended, with our group having to split in order to get seats. I'm sometimes critical of modern dance - it can be "overacting to music" and the very first scene confirmed my worst fears. A single performer walked onto the stage, miked up and reciting a monologue about the id, ego and super-ego "thoughts" of an artist while he writhed on the floor in the manner of a contortionist. Wow! That's pretty bad. Luckily, once the other dancers appeared we moved on to something much better. The piece is loosely set in an art gallery displaying "glacier" sculptures made out of sheets of expanded polystyrene, and much of the work involved manipulating these in some way or another: Laying them out to form an ice-sheet which cracked down the middle; tangoing with ice separating the dancers; climbing the ice cliff-face. The conclusion has an oil company sponsoring the exhibition, demanding a photo-shoot and an oil-spill which left the dancers covered from head to toe in oil. Overall an excellent piece, fast moving and interesting.
Thursday 13th March 2008
If Only The Dead Could Listen
This play %EXT%
set in a police station dealt with the experiences of an Albanian man arrested for shop-lifting. All he really wants to do is tell his story to someone, but in a world thick with stereotypes and presumptions will he succeed? The action revolves around the man (Leka, a refugee from Kosovo) and the translator brought in by the police, Dr Stone - an Albanian migrant married to an Englishman. The first half was humorous, but with some hints at darker, hidden things. The second half brought these out much more into the open, revealing some of what had happened in the past.
Tuesday 11th March 2008
Mem Morrison
Journeyed over to
Warwick Arts Centre
to see Mem Morrison's one man performance about his(?) upbringing as the sun of Muslim Turkish Cypriots running a greasy spoon in London. The stage was full of bread. White sliced bread. Bread was laid out as buildings, as tables and as walls. Bread provided the structure of the play, in a similar way to it's role in sandwiches. Mem was excellent, telling poignant stories, giving us a real sense of "being there". The recordings of his parents experience were also riveting.
8th March 2008
Dim Sum at Chung Ying Garden
Tempted by
reports of great Cheung Fun %EXT%
I hit Chung Ying Garden for a Dim Sum brunch. Great stuff - I particularly liked the
Sweet Chestnut Paste
which I hadn't tried before, and of course, the Prawn Cheung Fun was a good as we were promised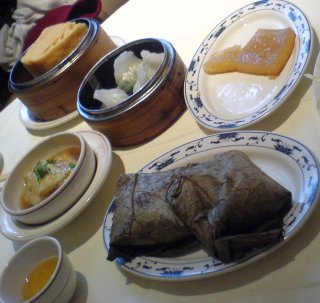 Dim Sum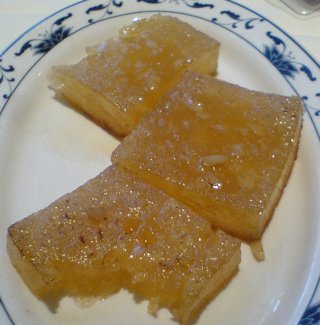 Water Chestnut Paste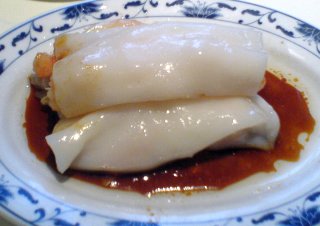 Prawn Cheung Fun
Deolali, Moseley
Greedy day today. After a pause of a couple of hours, I headed off to
Deolali %EXT%
in Moseley for Indian food. I can report it was: Slightly more expensive than your average balti; had very nice surroundings; and was suspiciously red. I suspect the influence of food colouring. Apart from that it was very nice!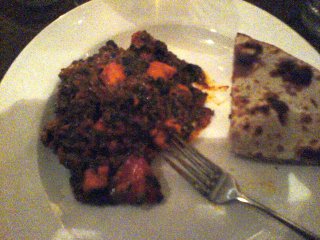 Sag Paneer
Tuesday 4th March 2008
Filini
Ate at Filini, a smart restaurant in the Radison Hotel which towers above the pagoda at the end of Bristol St. I skipped the bar as it was quite busy with (presumably) hotel residents. Walking up to the first floor, we were greeted and seated. The room itself has a small bar, and a giant pineapple shaped wine store in a glass case - odd, but pretty. Tonight, it was quite quiet, but on a busy night I could imagine it getting a little crowded and noisy. I mixed and matched the courses, and for starters I sampled both the asparagus with hollandaise sauce (delicious) and the good but not so exciting red peppers with anchovies. As a main I went for the seafood risotto with lemon - wonderful and creamy, with a good balance of flavours - delish! I also tried the tuna steak, which was basically that, with a little sauce. The wine list seems good (or good enough for me!) and service was attentive, though from multiple waiters. As a desert I went for the tiramisu, along with some very nice desert wine recommended by the waiter.
Prev:
Blog February 2008
1 Year Ago:
Blog March 2007
Next:
Blog April 2008
---
Contact me: Website (at)
Andy Pryke
.com, try use a subject which will get through my Spam Filter! I've been having spam filter problems, so if you haven't had a response, I'm really sorry, please try again! See Also:
Web Changes
for other recent updates,
All Blog Pages
for previous blogs. You might also want to read other
Birmingham Bloggers
This is my blogchalk: United Kingdom, West Midlands, Birmingham, Moseley