Prev:
Blog June 2008
1 Year Ago:
Blog July 2007
Next:
Blog August 2008
Wednesday 30th July
Central Park
The Fabled Central Park. I remember a children's program where a group of kids lived wild, hiding out in Central Park. Just how big is it anyway? I reckon I walked, in a meandering way, about half the length, from the North end down to the
Belvedere Castle
, and it took me about an hour and a half. It's big, though comparing it on the
map %EXT%
with
Sutton Park %EXT%
you can see they are about the same length, but
CP
is long and thin while
SP
is just about round. It's nice - much nicer than I expected, with people sitting around on benches reading books, and a score of summer camps catering to New York's kids. There was fishing for crayfish (and real fish) and lots of birds. A real oasis.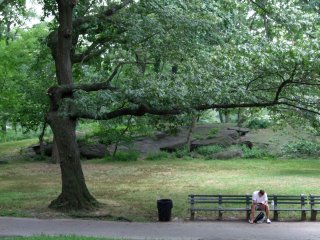 Relaxing with a Book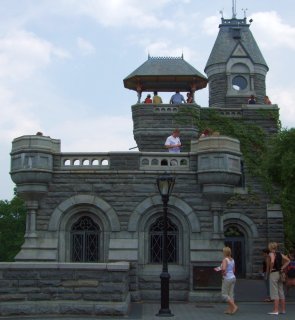 Belvedere Castle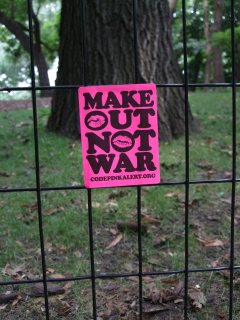 Sticker: Make Out Not War Close by is the American Natural History Museum which has this nice sculpture of a horse outside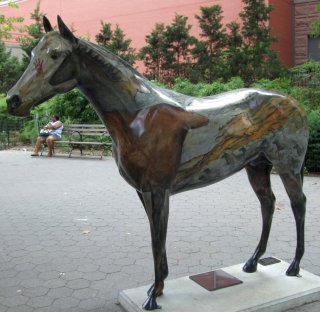 Horse Cave Painting
Soho Stickers
Soho was next, a more "bohemian" neighbourhood, but with lots of expensive shops and gentrification too. However, the stickering scene seems to be alive here, with nice decals and lots of stickers on street furniture.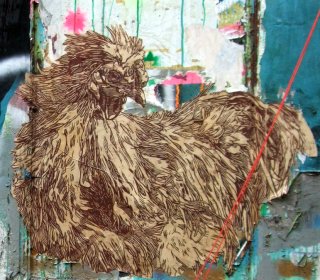 Chicken Decal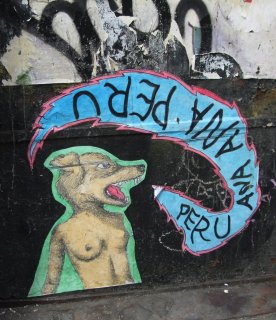 Ana Peru Painted Decal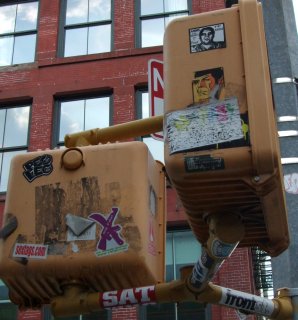 Stickered Lights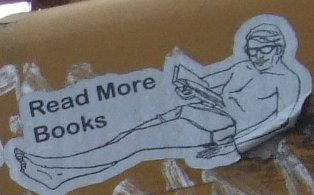 Read More Books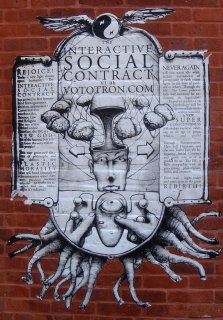 Interactive Social Contact - see
Vototron.com
for more info (
Picture Courtesy Ann Althouse Madison
)
Kiosk
Kiosk had such a great entrance that I had to go in. Inside I found a "curated range" of everyday products from Hong Kong, Finland, Germany and other places. Each is accompanied by a fascinating story about the curators trip abroad, and the object itself. They also had a display resulting from a "Plastic Bag Happening" which they had staged recently - the idea was to bring one (interesting) bag and take away another. A real shop run by artists.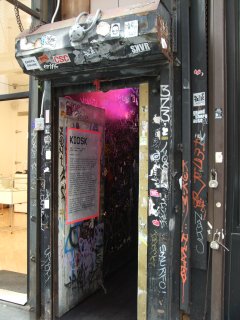 Entrance to Kiosk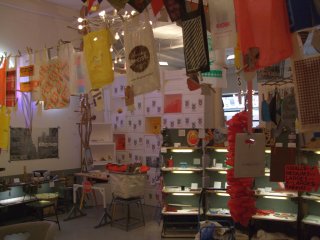 Kiosk Shop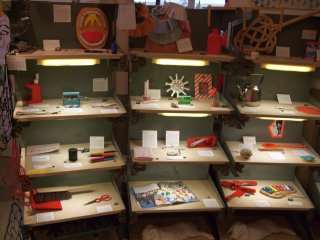 Kiosk Goods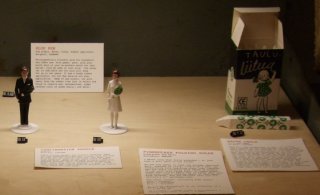 Kiosk Goods (Finnish confirmation figures and chalk)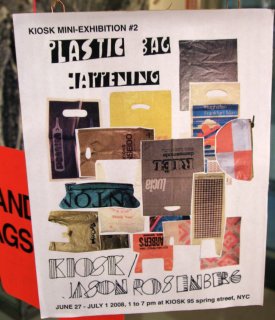 kiosk_plastic_bag_happening.jpg
Matsuri
Matsuri %EXT%
was another recommendation, it's a very dark, but beautifully decorated Japanese restaurant in Chelsea. It has a great Sake list, and very good service - the waiters kept a good eye on our table in order to serve food at the correct time, replenish water etc. I started with a cocktail, a
Yuzo ("Japanese Lemon") Cosmopolitan
, which I thought would make a good New York / Japan fusion. The food was great, I went for
miso soup
,
pickles
(quite unusual ones - including nice spicy radish like thingies),
edamame
, and a selection of good fresh
sushi
(rice not too sweet which is good). I also got to try the
calamari tempura
,
spicy tuna rolls
and finished off with the
green tea tiramisu
Although fine for eating, it was a little dark for food photos, but here's some of the decor, including the rather odd bathrooms!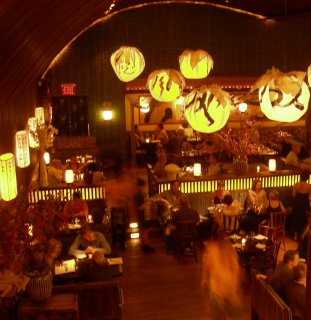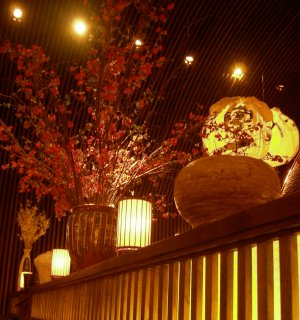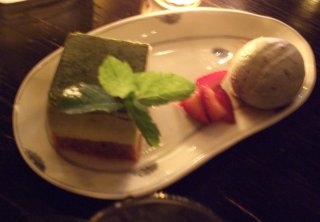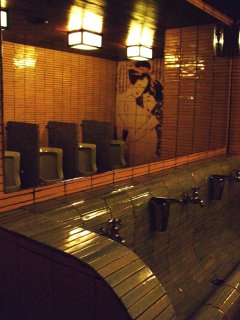 Tuesday 29th July 2008
Rockerfeller Center
After breakfast at the Casablanca I headed out to explore the 1920's and 30's buildings in the area around Avenue of the Americas /
Rockerfeller Center
There really are some stunning buildings, with beautiful friezes. (
More pics of friezes
)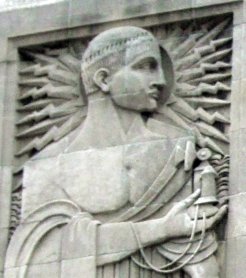 Check out what he's carrying...
Coloured Cut-Out Freize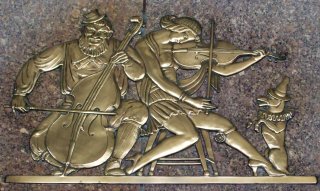 Radio City Plaque
The River
Next to the Wall St area, past the New York Stock Exchange and down to the waterfront for a view of Brooklyn bridge and the river. From Pier 17 I got a good view of the waterfalls which have been installed by artist Olafur Eliasson. I also picked up some very tasty ice cream from
Jack's Stir Brew Cafe
in one of the nearby side streets.
Waterfall under Brooklyn Bridge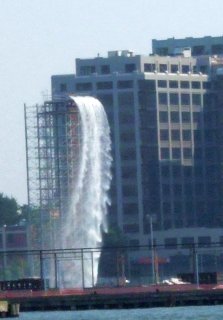 Brooklyn Heights
Caught the subway across the river to Brooklyn Heights. Most of the buildings here are old, picturesque and only a few stories high. There's also a lot of small independent shops and cafes around,particularly on Smith St. I got a good view back over the river towards Pier 17 and the fiancial district, and a glimpse of the statue of liberty out in the distance.
Monday 28th July 2008
To New York by Train
Morristown has a lovely station, I initially guessed it was 1920's but Wikipedia tells me it dates from 1912. Here's a couple of details, though it's hard to get the full effect. The Morristown Line used to run the
Millionaire's Express
which required you to be voted in before being allowed to use the service. My train wasn't quite as exclusive but gave some good views of the approach to the city.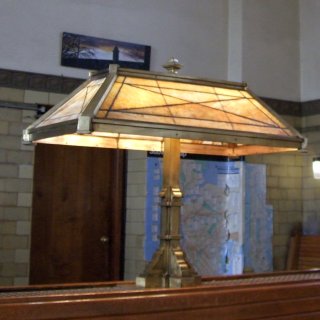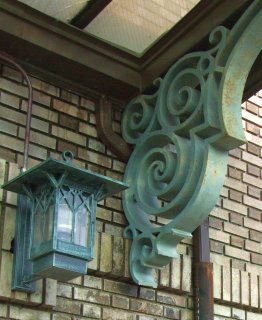 Details of Morristown Station
First Impressions of New York
Less people than I expected on the streets, and slower moving. Seems much friendlier than I expected. I walked the 10 or so blocks from Penn Station to my hotel off Times Sq. At no time did I feel I was about to be shot or witness a car chase. In fact, the drivers were very sane for a big city.
Casablanca Hotel
The Casablanca Hotel is an oasis of calm only 20m from the noise, lights and hustle of Times Square. Our room was small, though with space for a table and chair and decent wardrobe, perfectly clean and very nicely decorated. It was also completely quiet - I'd asked specifically for a quiet room and this was on the 6th floor in the centre of the hotel. I found it though
Trip Advisor %EXT%
which currently ranks it number 2 of 349 hotels in New York City! The whole hotel is in a "Moroccan" style. It also has a restful coffee lounge with free drinks available 24 hours a day, along with small snacks like biscuits. Breakfast is help yourself from here, with quality croissant, pastries, scones etc, ice tea, brewed coffee (normal, decaf and hazelnut) plus teas and espresso. Yoghurt, cereals and fresh fruit is also there for the taking. Oh, there's also free WIFI too, with routers on each floor, so you've always got a perfect signal. The hotel has a free cheese and wine session every evening, but I was too busy with the rest of New York to try this.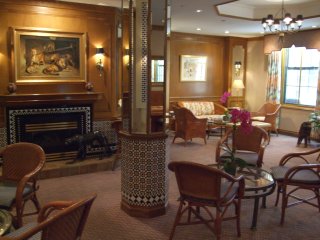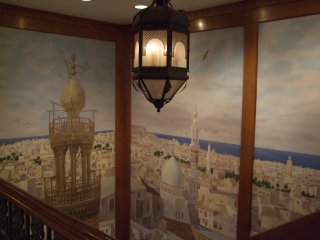 Spice Market
The former "meatpacking and gay area" (that's what it says in the guide books) is becoming gentrified, and a number of good restaurants have opened there in the past few years. I had Spice Market recommended and so tried it out on the first night. It's quite a large place, I'd guess it has a couple of hundred covers. We were greeted at the door and had to wait for 10 mins or so before our table was available, in the upstairs section close to the open kitchens (which are overlooked by a dining bar). Decor is in a nice mixed middle eastern / indian-ish style and the lighting is quite low. My food included fish on a bed of mushrooms, including the softest and most delicious
shiitake mushrooms
I've ever had.
Saturday 26th July 2008
Down on the Farm
Not too far from the hotel is
Fosterfields
, a farm which preserves the life ofaround 100 years ago. I started with a tour of the main house, built in a gothic revival style from a pattern book. Inside, the rooms and furnishings told the story of a rather opressive father and his independent daughter. When she first got a car (a very early one) he forbid her from bringing it onto the farm, so she had to park it out on the main road. Eventually she build her own one room refuge, carefully positioned out of view of the main house, and named _The Temple Of Eternal Peace". The kitchens were fascinating, full of hand cranked machines to mince and dice and separate cream and god knows what else. The stove was cast iron and dual fuel (wood and coal), and reminded me of the one in the basement of my grandmother's old house. Luckily we arrived on the one day a year they wash the sheep - how lucky is that! Although I didn't take part, I did see a crowd of enthusiastic 5 year olds scubbing away. The sheep were substantially cleaner afterwards. It was that kind of relaxed place.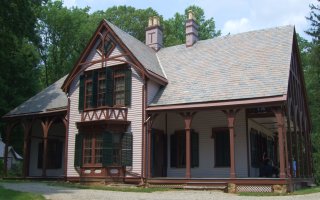 House at Fosterfields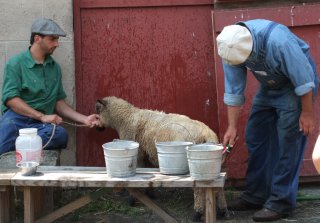 Washin' the Sheep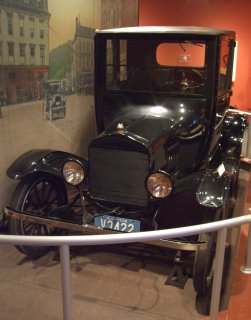 Model T Ford
Friday 25th July 2008
The Westin Governor Morris Hotel - Morristown
Stayed at the The Westin Governor Morris Hotel in Morristown, New Jersey. It's pretty plain outside but has a nice lobby and bar area, and the beds and showers were great! Apparently they're standard across Westin Governor hotels, and you can buy virtually anything, from the sheets to the bed or double shower head from a catalog in the room! Unfortunately the WIFI is pay for, with a fixed rate per day - not so good if you just want to check email quickly. Why all hotels don't offer free WIFI I don't know. I ate in the "Martini Bar", with some great
Blue Moon Beer %EXT%
a cloudy beer, apparently made by Coors and a very tasty bread basket, as well as various "proper" dishes. I've got to learn how to make that crispy bread with cheese and sesame seeds!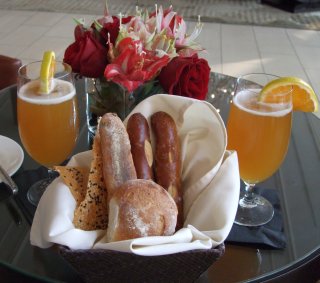 Blue Moon and Bread
Friday 19th July 2008
Edinburgh Previews - Reginald D Hunter and Jason Cook
I saw both Reg and Jason at Edinburgh last year, doing top notch shows. Reg regularly sold out a very large venue, and Jason's show in the top room of a pub got rave reviews, particulaly for its "tear in the eye" section near the end. Tonight they were at
The Old Joint Stock
where
Richard Batsford %EXT%
now books the comedy. Reg was first on, as he was also performing in Loughborough later in the evening. He handled the whole top ten of "subjects likely to offend an audience" without any offence being taken. His friendly and personable approach and strong material had the audience in the palm of his hand. This showed in the second half of the set, where, in classic preview style, he "went to the book" testing out short gags and pieces to build into a fuller set. The trust he'd built up with audience meant that they gave their full attention (and laughs) where a lesser standup might have struggled. Jason Cook's show last year was based upon his confessions of the ten worst things he'd done in his life. These ranged from minor childhood mistakes to errors likely to invoke severe emotional scarring! However, they were very funny to hear and he hit us with a couple of bombshells on the way, but left us on a great high. This year he's back with a similarly structured show, on the theme of Joy. Again, it features some strong "funny stories", though Jason's Joys focus on his relationship with his family and girlfriend, making it less universal than last years.
Wednesday 17th July 2008
Dr Horrible
Dr Horrible is a three part story from Joss Whedon, creator of
Buffy the Vampire Slayer
. It's a kind of musical super-villain love story, as far as I can tell, and worth checking out. Part 1 (14 mins) is out today. The first minute or so looks very boring, but stick it out. You'll be back for episode two.
Dr Horrible %EXT%
Tuesday 16th July 2008
Carey Marx and Glenn Wool
It's Edinburgh preview time, and tonight I wandered down to the Old Joint Stock to catch
Carey Marx
and
Glenn Wool
trying out their new Edinburgh shows. I enjoyed them both in
Edinburgh last year
so I was keen to see what they're planning for this year.
Carey
is a thinker, and gave us his top 10 of topics which audiences find offensive, and discussed why they do, and whether they really should. Oh, and he was pretty funny too - and not very offensive, at least to my ears!
Glenn
was about 45 minutes late, due to being caught in the tailback from a crash on the motorway. Luckily he phoned in and offered to buy drinks for the whole audience! Can't say fairer than that. Last time I saw him, he was telling stories about his relationship with "drunk Glen". This year, he's focussing on relationships again, but more of the d.i.v.o.r.c.e. variety. Mixed in with a lot of stories, including his near death from holding in the worlds biggest laugh. Check out some videos to see them in action:
Reg Hunter
and
Jason Cook
this Friday. Should be a stunning show. See the
Old Joint Stock Theatre Website %EXT%
for details.
Tuesday 8th July 2008
Alan Barnes Quartet, Hotel Du Vin
Alan Barnes on sax, supported by an excellent Trio, are the highlight of the festival so far for me. His easy manner, inter-song banter and great technique made for a lovely, (though long - 3 hour) afternoon. The central courtyard of
Hotel Du Vin
(the former Midlands Eye Hospital) was packed and the sliding roof was open to let in the sun. It's a pretty venue, though the beer prices are a little steep - \xA33.50 for small bottle of London Pride and \xA36.50 for my delicious Belgian Kriek. See this
video of Alan mentoring a young band
to get some background, or this one of him
performing live %EXT%
to get an idea of his style.
Monday 7th July 2008
The Tomorrow Band
The bar at the Rep, otherwise known as
WineREPublic
(geddit) had
The Tomorrow Band
on today. They're a Birmingham based band, with a new CD out - this was effectively the launch party. Oddly, this was one of the few
Jazz Festival
events which aren't free, I'm not sure why this one was paid in whilst some of the nationally recognised players are free. Actually, scrub that - what do I know about the UK Jazz scene! Though friends tell me they've seen several of the other bands playing elsewhere. Still, pay or no pay, it was a good gig, though I must admit I preferred the second set of standards to the first one of originals. The drummer, whose talent showed through in the 2nd half, just seemed to use every drum, symbol, cowbell, stick and brush in every song of the first half, and there did seem to be some competition as to who played the last sound in each song, generally with the drummer winning. You can see a
video of them performing live
courtesy of
You Tube
.
Sunday 6th July 2008
Jazz at the Green Room
Birmingham Jazz Festival %EXT%
is underway, and tonight I saw Saxophonist Carol Sudhalter at the
Green Room
. Also performing was
Poetry in Motion
also known as
Dr Teeth
who gave us some beat poetry. After this, I headed up to the
Living Room
to see
Simon Spillett
and the
John Patrick Trio
.
Poetry in Motion
appeared here too, and did the same poems - probably they're the best ones.
Saturday 5th July 2008
Soho Road
Soho Road is on my list of
places to visit in Birmingham
, though I haven't been there for a while. It has a high Sikh and Hindu population compared to the rest of the city, some interesting shops and some great food. Today I was shopping for clothes suitable to wear to a Hindu wedding, but managed to fit in some great snack food and sweets too. This street stall sells sweetcorn (with optional chilli) and pan puri, with sauces, sev (is it sev?) and chickpeas (channa). Very tasty and a bargain at \xA31.50 each.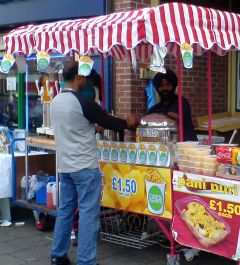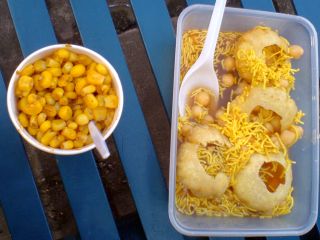 London Sweet Centre
provided me with some much needed Lassi and Kulfi after a hard days shopping, and they had the most amazing sweets.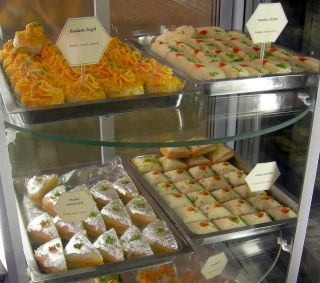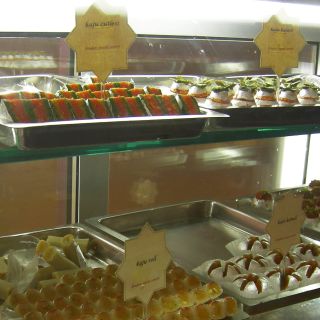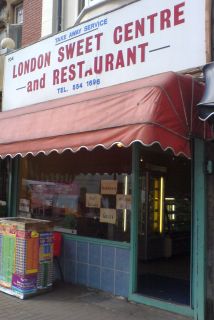 It's not all from the indian sub-continent either. There's a lot of grocerystores offering Russian, Eastern European, Persian and other foods, and you can also get this to take away: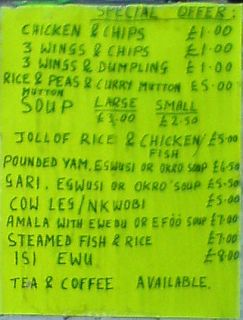 The
Asian Rationalist Society %EXT%
were also out on the street, with a stall full of information on fake astrologers, people who can cast spells etc. Good on 'em. _
Prev:
Blog June 2008
1 Year Ago:
Blog July 2007
Next:
Blog August 2008
---
Contact me: Website (at)
Andy Pryke
.com, try use a subject which will get through my Spam Filter! I've been having spam filter problems, so if you haven't had a response, I'm really sorry, please try again! See Also:
Web Changes
for other recent updates,
All Blog Pages
for previous blogs. You might also want to read other
Birmingham Bloggers
This is my blogchalk: United Kingdom, West Midlands, Birmingham, Moseley