Prev:
Blog August 2008
1 Year Ago:
Blog September 2007
Next:
Blog October 2008
Saturday 28th September 2008
Fox News Pull Stories Critical of Palin
Google News today has
Fox News
leading with a story critical of Sarah Palin. Given their normal fawning, I thought this would be worth a look, but oooppps... a 404 error? Looks like they pulled the story, which was running as their top story!

It was at
http://elections.foxnews.com/2008/09/28/conservatives-begin-questioning-palins-heft/
and also at
http://elections.foxnews.com/category/top-story/
Luckily, it's been mirrored here:
Copy of Palin story pulled by Fox News %EXT%
by "Election Swiftmob". Look like the also pulled this story -
http://elections.foxnews.com/2008/09/27/snapshot-polls-give-obama-edge-over-mccain-in-debate/
. You can find it mirrored here:
pulled Foxnews story about Obama poll lead %EXT%
P.S. The
google cache of the page %EXT%
has now appeared P.P.S. If you want to know why she's doing so badly, this article has
analysis and links to Palin's TV Interviews %EXT%
. Good for a laugh.
Thursday 26th September 2008
The Bad One
Janice Connolly's play at the Door is already sold out in Birmingham but will return to the Arena Theatre in Wolverhampton on the 8th of October. Set in the land of fairy-tales, with Tom-Tom the pipers son, princesses and bears all referenced, it's the story of a hard working and down-to-earth Grandmother and her naive, but blossoming daughter. There's much more to the plot, but I wouldn't want to spoil it for you. The dialog shone out, distinctly different for each character, with the rather "goody-goody" girl echoing her grandmother in little ritualised pieces of speech. A thought provoking and very well executed play!
Wednesday 25th September 2008
"The Rice Thing"
I saw "Of All The People in All the World"
way back in 2003
. Now it's back and much bigger, in fact they have one grain of rice for every person in the world - that's 6 Billion! Apparently, the rice they're using is 60 grains to the gram, so I guess they have around 100 tonnes. A tonne of rice (60M grains) looks like this when bagged up: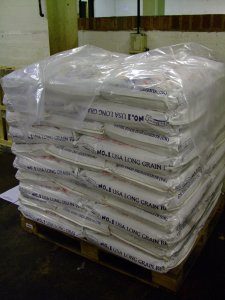 where as the population of Birmingham (~1M) is: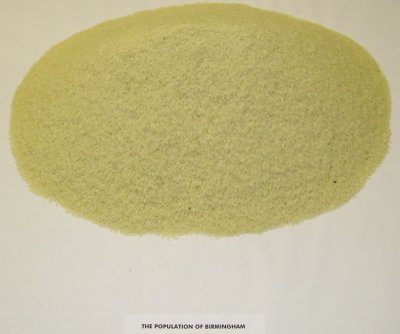 Some other random views: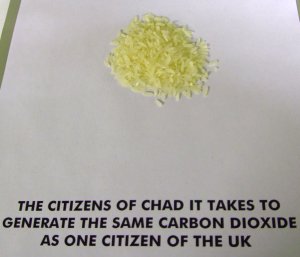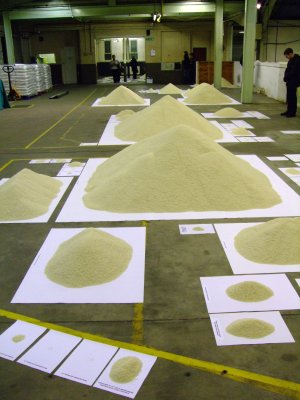 and here's a view of
how people in Brum get to work
. It's a marvellous piece, I've still been talking about the previous version as one of the most interesting exhibitions I've seen. It's so good to see it back again! It's open until the 5th of October, so make sure you see it before it finishes.
Directions etc %EXT%
are here.
Lalehzar
"Hidden away" on Great Hampton St (
map %EXT%
), about 10 mins walk from St Paul's Sq, is Lalehzar, a Persian restaurant which was recommended to me via a rather long chain of people. When we arrived, a table of four people were the only diners, in a place with around 50 covers. It's a nice looking place, bright (but not dazzling) and nicely, but simply decorated. Neat is a good word for it. They were happy to re-arrange tables to seat 12 people, and took our orders efficiently without any mistakes. Food-wise, there is choice for both meat eaters and vegetarians, meat being either lamb or chicken, and veggie's having a choice between various dishes with rice. There's a good selection and very tasty collection of starters, including gigantic salads with lots of feta,
Torshi
(persian pickles),
hammus
(hummus) and
Mirza-Ghasemi
(smoked aubergine with egg and tomato), the latter two served with thin breads like chapati,. In fact, if I go again, I think I'll get 3 or so starters rather than a main course. After our mains, we were brought tea with cardamon, little pastries, and lots of lovely fresh fruit - all complementary! Pity I didn't get any pictures as it looked (and tasted) great. Oh, and the prices... starters from \xA31.90, veggie main courses \xA33 or \xA34, and meaty ones mostly $5! A bargain.
Birmingham Plus reviews for Lalehzar %EXT%
Sunday 21th September 2008
Hampton in Arden
Only 30 minutes on the train from Moor St or Snow Hill, Hampton in Arden is a pretty, linear village, with lots of Tudour style black and white buildings. There's also a "mound" which used to house a castle, and which is the start of a circular walk, and of course, the famous Hamton in Arden ice cream. So quick and easy to get to, and such a change from the city, this should be a day trip in every Brummie's book.
Saturday 20th September 2008
Four more for your delectation:
Tuesday 16th September 2008
Highly Recommended
Having spent the weekend with people who really know what's happening with climate change, I've just got hold of the book
Carbon Detox %EXT%
which a couple of people recommended. It's first chapter is called
Not another bloody polar bear!
. I was asking someone "Just how many lifetimes-worth of plastic bags do I have to refuse in order to compensate for one international flight" and they said - read George Marshall's book. So if you want a book which is
by all accounts fun to read %EXT%
and tells you what you can practically do to make a difference (including
Why speed, fun and luxurious treats must be a part of a light carbon lifestyle
and
The Death of a Thousand Tips
) go for this. He's anti "hair-shirtism"

After reading a bit further, I notice he also has an
entertaining blog %EXT%
. I think I'll try get the author to come do his one man show in Brum, after all he says that it was here which inspired him to write the book! P.S. Just read the bit in the book about plastic bags. About 100 to 300 years of not-taking plastic bags equals skipping one flight in carbon terms, but don't think of this as a reason to do nothing, it's a reason to find out the effective, fun and money saving things which have a real effect.
Sunday 14th September 2008
Silent Disco
I must admit: I was skeptical. I'd seen a silent disco at Glastonbury but not paid much attention. Now I'm a convert. This one had two DJs and radio headphones which allowed you to flick between them. This meant that you'd have half the room singing along to "Hey Jude" whilst the other half pogo'd like crazy... and of course, you could hear the singing if you slipped the 'phones off. There's also the great game of trying to guess which DJ someone is dancing to, and if you want to go a bit crazy, well, everyone will think you must be listening to the other channel.
Saturday 13th September 2008
Age of Stupid
I was lucky enough to see a pre-release screening of the new film,
Age of Stupid
, which is scheduled for a premier at the
Sundance Festival %EXT%
in January. It's a novel sort of documentary film, with a dramatised story which links it together. Set at "the world archive", Pete Postlethwaite stars as the only man left on earth, looking back at how we missed the chance to stop climate change. He works a high-tech computer interface to select real news-clips and new documentary footage about just how bad it is already, featuring the impact on six people from across the world. This makes it fast moving, as he can select only the most interesting bits and fast forward or cut out the rest. Look out for general screenings from spring 2009, hopefully with one in Birmingham

Tuesday 10th September 2008
Climate Wars
A friend pointed me in the direction of this BBC TV programme
Climate Wars %EXT%
(iPlayer) I've just watched it and I'd highly recommend it. It takes you through how views on climate change have developed since the 1970s, looking at skeptic arguments as well as consensus. Plus it has a lot of beautiful
Life on Earth
style pictures! Well worth an hour of your time, it's available online till Sunday evening.
Sunday 8th September 2008
Paul Sinha
Paul Sinha is billed as "Britains funniest gay asian doctor" and I'm willing to believe it's true. Tonight he appeared at James Cook's new club
Hare of the Dog
at the
Hare and Hounds
in King's Heath. He had the audience eating out of his hand with a well rehearsed but very fresh sounding set.
Hare of the Dog
is on Sunday 21st September and features Nick Doody.
4th September 2008
Dinner at Lasan
Lasan is feted as "one of the best 10 Indian restaurants in the UK" (apparently by the Independent, though I couldn't find the article) and is winner of the
British Curry Award %EXT%
as Best Restaurant in the West Midlands (2007). It's right next to St Paul's Square in the Jewellery Quarter, up a rather inauspicious looking alley way. Once inside it's clean, modern and welcoming, very definitely a restaurant rather than a "curry house". Our waiters were attentive but not too attentive - there's nothing worst than being continually interrupted to be asked whether everything is OK and there was no sign of this here. We did have a couple ordering mix-ups - firstly we got a bottle of sparking water rather than the tap which we'd asked for - this was quickly fixed with no quibbling, secondly, we got plain rice rather than the
peas pillau
which we'd ordered (and I'd double checked with the waiter as he'd got the water wrong...) - a notepad and pen wouldn't go amiss for ordering. Still, these are very minor things when compared to the excellent food served. I'd highly recommend the Vegetarian Starter Platter for two - it's a great way to get to taste four unusual dishes which you won't find in many (or any?) other places. The Balls of Spinach stuffed with finely chopped mushrooms were great, with a light crispy crust and a soft inside, the spicy potato cakes were also awesome - particularly with the tamarind sauce. I made a subtle mistake in ordering my main course - I ordered the same delicious spinach balls which came as a starter, though this time in light tomato sauce, where I'd have preferred to try something different - doh! Still I enjoyed them. Lasan is not a posher substitute for a balti, it's a restaurant which specialises in Indian food. Well worth a visit, and for the standard, very reasonably priced. They also do a taster menu which needs to be pre-booked but comes at a bargain price of \xA312 / \xA315 per head (depending on the size of the group). I hope to check this out soon.
Prev:
Blog August 2008
1 Year Ago:
Blog September 2007
Next:
Blog October 2008
---
Contact me: Website (at)
Andy Pryke
.com, try use a subject which will get through my Spam Filter! I've been having spam filter problems, so if you haven't had a response, I'm really sorry, please try again! See Also:
Web Changes
for other recent updates,
All Blog Pages
for previous blogs. You might also want to read other
Birmingham Bloggers
This is my blogchalk: United Kingdom, West Midlands, Birmingham, Moseley