Prev:
Blog November 2008
1 Year Ago:
Blog December 2007
Next:
Blog January 2009
Thursday 18th December 2008
Mistys and the Retro Spankees
Misty's
always play a Christmas gig, and this year it was in the Hare and Hounds in King's Heath. Support was from the excellent Retro Spankees who have played with Misty's many times and also done cameo appearances in a Misty's video. Tonight was the first public screening of
Mark Locke's %EXT%
video for
Between You and Me
- even some of the band hadn't seen it in advance. It tells the story of two young friends who battle disappointment to build a space rocket in their back garden. Very much my own story, except mine never flew. Hope fully it will appear soon, along with the one for
I Can't Bring the Time Back
, at
Mark Locke's Website %EXT%
. For the meantime, you can
listen to Between Me and You %EXT%
on Misty's
My Space
page.
Tuesday 16th December 2008
Richard Batsford
Richard Batsford %EXT%
is one of Brum's "do-ers": as well as being a comedy promoter, he's also a talented pianist (you can
download his first Album here %EXT%
). Tonight he was playing at the Yardbird, adjacent to Birmingham Central Library. Also playing was
Emma McGann %EXT%
, singer songwriter from Coventry, who's worth seeing again.
Weds 10th December 2008
Puppini Sisters
I saw the Puppini Sisters at the
Fierce Festival launch party
, back in 2006. Tonight they were at the Town Hall, with a backing band. Unfortunately, the sound quality seemed a bit out for the first few songs - the band too loud and the 'Sisters too quiet. This improved as the show went on, but made me wonder if they'd missed out on a sound check. Overall, their best songs were the one's (I think) they'd written themselves. On some of the others, they didn't really get the tight harmony or synchronised movements you'd expect from their image - you know, like you see in
40's films of the Andrew's sisters %EXT%
. Still, a good fun night.
Friday 5th December 2008
Damo Suzuki + Pram + Courtesy Group
I haven't seen
Pram
for a while and I've only seen
The Courtesy Group
once before, so I was looking forward to this gig. I did see Damo Suzuki several years ago and I was interested to try understand his music more - he seems to have quite a cult following. Damo Suzuki came on stage first, accompanied by two drummers, two bass guitarists, one lead guitarist, the singer from the Courtesy Group and a saxophonist. Wow! They made some noise. It was like watching two bands playing at the same time whilst taking LSD. As one of the guitarists was Makoto Kawabata from the band
Acid Mothers Temple
, I imagine this is quite accurate! They played for around 50 minutes (before I popped downstairs to chat), and I enjoyed it. The "songs" were recognisably different from each other, and the strange, shouted, vocals consisting of repeated phrases, words and sounds were somehow hypnotic. Pram were on next, so I headed back in time to catch them start. Damo Suzuki and Makoto Kawabata and many of the others were on stage with them, and Pram's unique, complex and delicate sound was completely lost beneath the cacophany. It was then that I realised that the first band I'd seen was actually the Courtesy Group, joined by Damo et al. Aha! That explained why the headliner appeared to be on first! I'd have liked to see all three bands individually, but this wasn't to be. I gave up on the faux-Pram after a couple of songs. Hope I get to hear them properly soon though.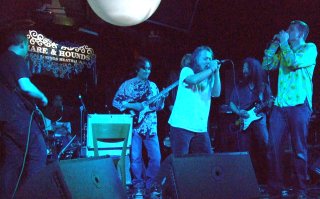 Damo Suzuki and Courtesy Group See
more pictures of the gig taken by Pete Ashton %EXT%
.
Prev:
Blog November 2008
1 Year Ago:
Blog December 2007
Next:
Blog January 2009
---
Contact me: Website (at)
Andy Pryke
.com, try use a subject which will get through my Spam Filter! I've been having spam filter problems, so if you haven't had a response, I'm really sorry, please try again! See Also:
Web Changes
for other recent updates,
All Blog Pages
for previous blogs. You might also want to read other
Birmingham Bloggers
This is my blogchalk: United Kingdom, West Midlands, Birmingham, Moseley